Sheela Amin
I am from India, a graduate of Bombay University, and have lived in Charlotte since 1989. I've been a volunteer at Refugee Support Services about three years and contribute at least 4 to 5 hours each week. I distribute donated food, and seek donations of clothing and furniture. I also work one-on-one with a refugee family as a Fruitful Friend. I find helping the refugees get acclimated and become self-sufficient to be very fulfilling work. They come here to simply find a safe place to live and start a new life, so the love and compassion they receive from volunteers can be life-changing for them.
---
David Drevlow
I've spent a lifetime helping others, as a teacher, a Bible translator for many years in West Africa, and as a nurse. As a volunteer at Refugee Support Services I handle the many kinds of problems refugees bring to the Help Center. My biggest challenge is in dealing with the different languages and backgrounds that refugees have, but I find the work very rewarding. I encourage anyone interested in volunteer work to consider Refugee Support Services for a great opportunity to help those who would otherwise be struggling more than they already do.
---
Rola Dumarieh
I was involved with refugees in Raleigh, and when I came to Charlotte I wanted to continue that kind of work. An online search brought me to Refugee Support Services, where I now volunteer weekly at the Help Center. I also maintain the database of refugee information and handle a wide variety of problems that refugees have as they adjust to a new life in Charlotte. I welcome the opportunity that volunteering with Refugee Support Services provides to learn about different cultures, and I find my involvement with refugees very rewarding.
---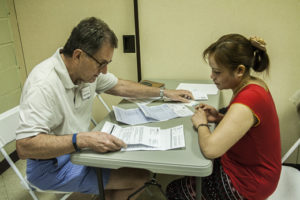 David Tipple
I've always had a deep interest in travel and learning about other countries, so when I retired in 2015 I decided that working with refugees resettled here in Charlotte would be a great "fit" for me. I work every Wednesday at the Refugee Support Services Help Center, assisting refugees with a myriad of problems ranging from answering questions about their bills to helping them complete citizenship application forms. I really enjoy working with them, despite having to deal with "red tape" issues often. I love and respect that everyone who comes in for help is very pleasant and is trying to do the right thing. They are so pleased to be in America and they are trying hard to do well in all aspects of their lives — and they are so appreciative of the help they get at the Help Center. It's all very gratifying. I really enjoy being a part of Refugee Support Services and find it a rewarding organization to volunteer with.
---
Barbara Cribbs
I moved to Charlotte from Florida with my husband and children in 1983. For 42 years I worked as a dental hygienist. I have volunteered with RSS for almost twelve years now—since the beginning!
I was one of the first volunteers paired with a refugee family, a delightful family of five. In our first meeting one of them said, "I want to know all you know about living in the United States." The words marked the beginning of a lifelong friendship between families.
Currently I am one of about a dozen individuals at the Help Center tasked with identifying an applicant's need and pairing the individual with a specialist who can help. Each week is different, insuring that we stay on our toes!
These refugees have fled persecution or war or inhumane treatment, so it is a privilege to help them navigate the move to a different culture. Best job I've ever had!
---
Stephanie Branscum
My upbringing in a church-oriented environment endowed me with a sense of greater purpose outside of myself. In Texas I worked with a home for children, and in Illinois helped start a youth program.
I am now working toward a Master's Degree in Social Work and aim to work with an international population. Each week I spend about 15 hours at Refugee Support Services: helping in the Help Center, assisting with vegetable distribution, running the weekly knitting group.
This work with refugees has been the most rewarding experience of my life.
My biggest challenge is being sensitive to the cultural norms of different ethnic groups. I am humbled by the welcoming warmth and generosity of those who have lost everything in their country. I have learned much from working with refugees, and I would strongly encourage others to become involved in helping this population of wonderful, kind-hearted people.