Become a Fruitful Friend today!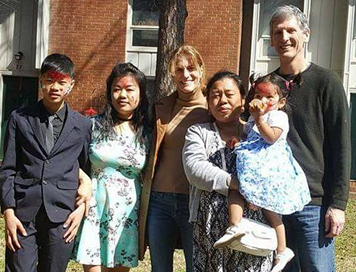 Every year, more than 600 refugees arrive in the greater Charlotte area. After they arrive, they are given assistance through the government for the first 90 days…but then they are on their own. That's where Refugee Support Services steps in!
We desire to come alongside the local refugee population and help build relationships with them in a family-to-family or individual-to-individual setting so that they can thrive in their new community. Refugees often simply want an American friend with whom they can practice their English, explore Charlotte, and help get answers about life in this new culture. The program continues to grow, but there are still MANY refugee families waiting for an American friend.
If you would like to become a Fruitful Friend to a local refugee individual or family, please fill out the volunteer application form, then see the list below for next steps.

Steps Involved in Becoming a Fruitful Friend:
Complete and submit volunteer application here or hit the Get Started button above.
Attend a Refugee Support 101 workshop. This is REQUIRED and is always held on a Wednesday morning. View available dates and sign up here.
After attending Refugee Support 101, you will receive an email link for a background check from Verified Volunteers. Follow instructions for a background check. This is also required before pairing you up.
You will receive a link to sign up for a 20-minute telephone interview with the Volunteer Coordinator. Sign up for a time that suits you best.
Volunteer at the Refugee Help Center for a minimum of two hours (Wed. or Thurs. mornings), involving direct interaction with refugees.
Attend Fruitful Friend Training. This is also required and is always held on a Thursday morning. View available dates here.
You will exchange personal contact information at a 15 minute "Meet Your Fruitful Friend" session. This is usually at the Galilee Center, often immediately following the Fruitful Friend Training.
GO! Develop your friendship with your new amazing refugee family! ENJOY!
Stay in regular communication with our program coordinator and report monthly hours of service.
We encourage families or individuals to devote at least one hour per week for at least one full year.