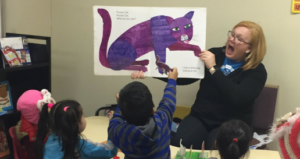 Refugee Support Services Education Program provides refugee children and parents with a safe, loving, nurturing, environment that promotes a love for learning and creative play.
First and foremost, is the goal to create an environment where children and parents feel that they are welcomed, accepted, valued, appreciated and loved.
Children are taught and encouraged to interact happily with each other, to listen quietly to stories while sitting side by side, to share snack time at the same table, to create works of art, to exercise by playing and to talk with adults who listen attentively to their needs and discoveries.
For parents, literacy and kindergarten readiness skills are modeled so that these skills can be reinforced in their own homes. The goal for the children who participate in the RSS Education Program is that these children, and develop a life long love for learning.
RSS is in search of people who enjoy working with children and can volunteer in our already-established preschool setting so that refugees with children can more easily attend CPCC's ESL classes and RSS's Help Center programs Mondays through Thursdays from 9 am-1 pm.


Steps Involved in Becoming a Love & Learn Volunteer:
Complete and submit volunteer application here or hit the Get Started button above.
Attend a Refugee Support 101 workshop. This is REQUIRED and is always held on a Wednesday morning. View available dates and sign up here.
After attending Refugee Support 101, you will receive and email link for a background check from Verified Volunteers. Follow instructions for a background check. This is also required before volunteering.
After your background check has cleared, you will receive and email with a link to sign up for a 30-minute telephone interview with the Education Coordinator. Sign up for a time that suits you best.
"Shadow" with Education Coordinator for at least two days during the regular Help Center hours on Wednesday and Thursday mornings from 10:00-12:00.
Become familiar with Volunteer Guidelines provided by the Education Coordinator.
Before becoming a regular volunteer you will be given a link to complete an online Preventing Child Maltreatment video course. This is done on your own time and there is no cost involved. The course will take approximately one hour to complete.
COME!!! Have fun making a positive difference in the lives of the children and parents.
We encourage volunteers to commit to one morning each week for at least a six month time period during our regular Help Center hours.