Volunteer at Refugee Support Services
Every Wednesday and Thursday, RSS operates the REFUGEE HELP CENTER at the Galilee Center on Central Avenue from 10AM to 12PM.  Refugees are invited to come in for help with any area in which they are struggling—often this includes deciphering medical bills, making telephone calls (to help answer concerns or to make appointments), reapplying for food stamps or Medicaid, or completing job applications, among other things. Volunteers are always on hand to lend advice and to help newcomers navigate the often-complex American systems.
In addition, RSS operates a FREE fresh food and vegetable distribution on Wednesdays (between 10AM to 12PM) in the back parking lot of the Galilee Center. Refugee families are able to supplement their family's diet with fresh and nutritious vegetables, fruits, breads/bagels, and sometimes, locally-farmed tilapia fish. We are so thankful to our various partners who help make these weekly donations possible — and to the volunteers who do a lot of physical labor to make this happen, rain or shine!
---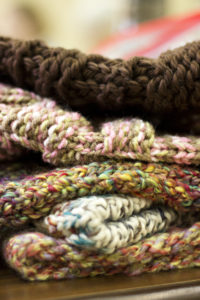 On Thursdays, RSS hosts a group called KNIT TOGETHER, which features several crafty volunteers who teach refugee women knitting, crocheting, jewelry-making, and other amazing crafting skills; they all love to work with their hands and create amazing items!
If you might like to help on either of these days, please complete a volunteer application.  We look forward to having you serve with us!