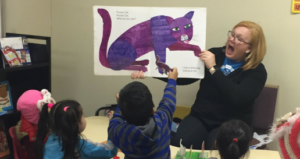 Refugee Support Services Education Program provides refugee children and parents with a safe, loving, nurturing, environment that promotes a love for learning and creative play.
First and foremost, is the goal to create an environment where children and parents feel that they are welcomed, accepted, valued, appreciated and loved.
Children are taught and encouraged to interact happily with each other, to listen quietly to stories while sitting side by side, to share snack time at the same table, to create works of art, to exercise by playing and to talk with adults who listen attentively to their needs and discoveries.
For parents, literacy and kindergarten readiness skills are modeled so that these skills can be reinforced in their own homes. The goal for the children who participate in the RSS Education Program is that these children, and develop a life long love for learning.

Read more about getting involved in our program!